1.
---
HAMUN
2016

Set in a future world where animal resources have been depleted and human society has turned to systemized cannabalism. An inferior class called Hamuns,their lives and emotions are disregarded. Poorly bred for consumption and ailing with sickness, Hamun #0375 is managed to be documented.


Developed for Special Topics in Communication Design:
Brand Lab for Counter + Force Lab led by Professor Rebeca Mendez with Adam Eeuwens.
ART DIRECTION
PHOTOGRAPHY
BRAND IDENTITY
2.
NOSAJ
THING
2018

Print and video graphics for Nosaj Thing's 2018 european tour of his new album "Parallels". Includes two versions in light and dark.
3.
TENBOX
2017

Collaboration with Japanese brand Tenbox as part of a limited edition drop at Less Store in Taiwan.
Graphic Design
Illustration
4.
SERF
2018
Unhinged and unassociated
A uniform clamoring for hope and will go unattended
An empty hall flatters bustling streets with mimicry
in conjunction with opposing depictions
A hell in a hole is a hell far too small to liberate
the serfs of a heaven made to crumble
A quiet cry amongst turbulent silence
Flawed family dynamic in a killed kingdom
Forsaken for God's sake
Love, en lieu of a king.
Written by Ikenna Nwoko


ART DIRECTION
PHOTOGRAPHY






5.



TIMETABLE®
2018
TUNE IN MONTHLY TO TIMETABLE RADIO ON NTS
Leftfield movements in dance, experimental and electronic music.
Timetable is a crew of musicians and visual artists based worldwide (LA, SF, London, Amsterdam). The label is home to Nosaj Thing, Holodec, Whoarei, D Tiberio, 4THSEX, Gerry Read, Damar Davis, Low Limit and guests.
Timetable represents the cross section of music, visual media and fashion. Timetable currently exists as a music label, where they release music alongside visual content and web experiences. Their first collection of clothing was exclusively released at Union store in November 2016.
www.timetablerecords.com
GRAPHIC DESIGN
MOTION DESIGN
6.
LOZANO
2018
Logo and Brand Identity system for a veteran-owned private security company for the entertainment industry, designed in collaboration with Scott Campbell for Scott Campbell Studio.
GRAPHIC DESIGN
BRAND IDENTITY
7.
BEBOE™
2018
Beboe Box package design for Beboe™ in collaboration with Scott Campbell for Scott Campbell Studio.
GRAPHIC DESIGN
PACKAGE DESIGN
8.


TORO Y MOI
NOSAJ THING
2018
Brand development for LAFF TRAX, a new DJ duo featuring
Nosaj Thing and Chaz Bear of Toro y Moi.
GRAPHIC DESIGN
BRAND IDENTITY
9.
143
2018
Mock design for 143, an underground club for future R&B.
GRAPHIC DESIGN
BRAND IDENTITY






10.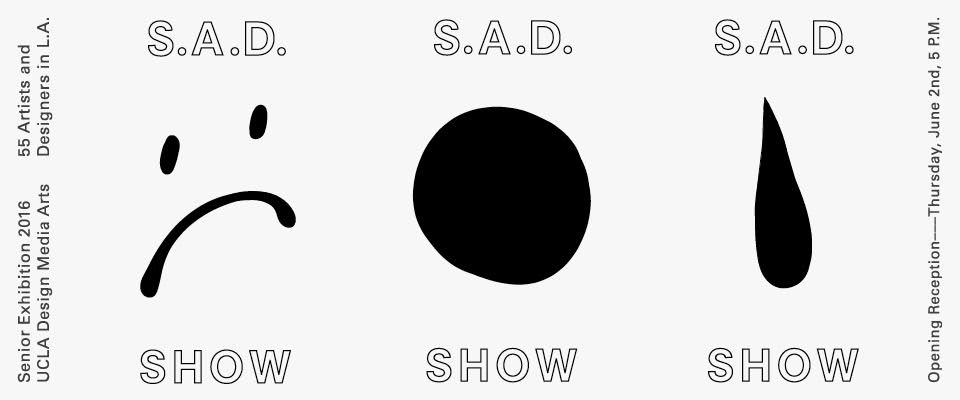 Staring in the Age of Distraction (S.A.D.) addresses thematically the acts of viewing and creating artwork within today's often over-stimulating life of constant noise, fused tastes and aromas beyond recognition, endless visual feeds, and desensitized touch. Naturally, living in an urban environment like Los Angeles demands a great deal from our senses on a daily basis. This demand takes a toll on the minds and bodies of this city's inhabitants, resulting in a growing popularity of trends like meditation practice and solitary retreats. As a generation of rising artists and designers categorized as Millennials, we find ourselves creating work in a chaotic, digital age while facing both the stigmas and benefits of this demographic cohort.

S.A.D. exhibits the culmination of all of these influences through the perspectives of 49 individuals born just after the Internet and have collectively come of age as active consumers of art, design, and technology. This central theme not only applies to the exhibitionists, but crosses over to the viewers as well. S.A.D. questions the role of the viewer within an exhibition space by imposing the same influences of distraction onto the experience of interacting with artwork. The opportunity to exhibit new works in an institution is both a hard-earned privilege and a social responsibility these Millennial artists and designers seek to acknowledge. With change as the only constant in life, we embrace this age of distraction and simply hope to remain in touch.
---
Curatorial Team:
Ariana Govan, Bijun Liang, Caroline Park, Charu Chaudhary, Christian Gimber,
Elena Cullen, Giancarlos Campos, Jason Lee, Lauren Nipper and Nicholas Tasato.
Archived website
Press: Vice
---
S.A.D. SHOW
2016
Lead brand design in curatorial team for UCLA's Design Media Arts Senior exhibition showcase.
EXHIBITION DESIGN
BRAND IDENTITY
11.
GRAND PARK
2016
Graphic design for Timetable Records performance at the Grand Park Los Angeles.